Shopping for a child's present is really one of the most pleasing, yet anxiety provoking things. Really… Hear me out.
My toddler loves the standard boy toys typical 2-3 year olds enjoy. But he also likes to play with a tea set at school and bring "food" to his Momma and Dada, all while demanding payment with a fake credit card. How do I know what to get him?
So when I sat down to think of gifts my first thought was "My child needs nothing." He has tons of toys gifted by his generous friends and family and will never go without when it comes to playtime. However, despite the whole "don't give my child a present" movement, which I fully understand, I still want to ignite the spark of childhood at Christmas time and show him that we can receive a gift and be thankful for it.
I believe teaching thankfulness and gratitude is something many gloss over in hopes of adopting the "less is more" mindset, which is something I fully support and love. However, I don't think limited my kid to his Christmas choices eliminates greed and other unwanted character traits. I have to teach him to be grateful and on top of all of that, to consider others.
He on numerous occasions has packed up toys in his playroom to give to the church nursery. We went through the toy aisle last week and bought 3 toys for a toy drive and he didn't ask to keep any of them. I am most proud of the caring traits I see blooming in his heart.
With all that being said (stepping off my soapbox — for now)… here are a few items that we've purchased over the past couple months for our little man to enjoy at Christmas this year.
Holiday Gift Guide for Toddlers
Personalized Book

Wonderbly has a great idea for your littles. I plan to share more on my son's special book in a separate post because we love it so much. You select the letters to spell the child's name and there are a couple of different options for each letter, so it truly is personalized. As they go through the book they find the letters and spell their own name. Super special.
Price: $24.99
Build your book here: Wonderbly Book
Mabel's Labels

These are the best labels for all of your little's items. You can check out the variety of options on their site including waterproof and dishwasher safe labels — hello organization at preschool!
Price: $21.00
Buy them here: Personalized Name Stickers
Freshly Picked Mocs
Guess what? This isn't a brand just for babies. Those little toddler feet look so cute in the sandals and hard soles as well!
Price: $40.00 for sandals
Buy sandals here: FP Sandals
Buy hard soles here: FP Hard Soles (on sale!)
Land of Nod Bedding
If we're being super honest, the big gift from Momma and Dada this year is bedding. Our boy upgraded to a big boy bed a few months ago and he's now going to have a super cool sheet set and comforter to make it all his own. Parent tip: buy a solid color comforter so you can change out the sheet sets when they decide they're over the current character phase. When he's no longer interested in dinosaurs and cars, I'll just find a new sheet set without having to replace the whole bedding set.
Browse here: Land of Nod Bedding
Crayola

Let them get crafty! Last year we bought, I mean, Santa made these triangle crayons and surprisingly we still have them all and use them on a regular basis. We'll replace the few that have broken with a new set this Christmas because you really can't go wrong with just a good ole coloring pad and crayons.
Browse items here: Crayola Shop
LEGOs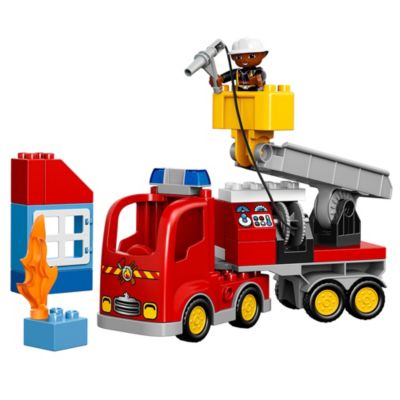 The other kid staple. LEGOs are a given. Every kid likes to tinker and build stuff. You can get so many different sets and always expand upon what you already own.
Price: $24.99
Buy it here: Fire Truck
Magformers
These are along the lines of the LEGO building obsession but use magnets instead. Super excited to see him play with these because they are truly open to the imagination. And like the other building block sets, you can add to these as you go.
Price: $35.00
Buy them here: Magformers Standard Set (30-pieces)
Lincoln Logs
I'm sensing a trend here. My child loves to build stuff. My husband and I both grew up playing with these so it's super fun to be able to give him his own set.
Price: $25.00
Buy them here: LINCOLN LOGS – 100th Anniversary Tin – 111 All-Wood Pieces – Ages 3+ Construction Education Toy
Emily Ley's Big Kid Book

Can't overlook keepsake memories for the toddler years. Emily Ley's baby book has an extension to ages 2-5 in the Big Kid Book. I can't wait to fill this one up for him too. (Yeah, I know it's more for me, but he'll appreciate it one day…)
Price: $62.00
Buy it here: The EL Big Kid Book – Boy Edition
Hope that gives you some ideas and easy routes to buying some fun things for your little ones this year. Just remember: they're only little once. Let them enjoy being kids and ripping open that paper on Christmas morning.
xx,
This post contains affiliate links and we will be compensated if you make a purchase after clicking on our links. See Disclosure Page for more information. All opinions are our own and we only share products we truly love.